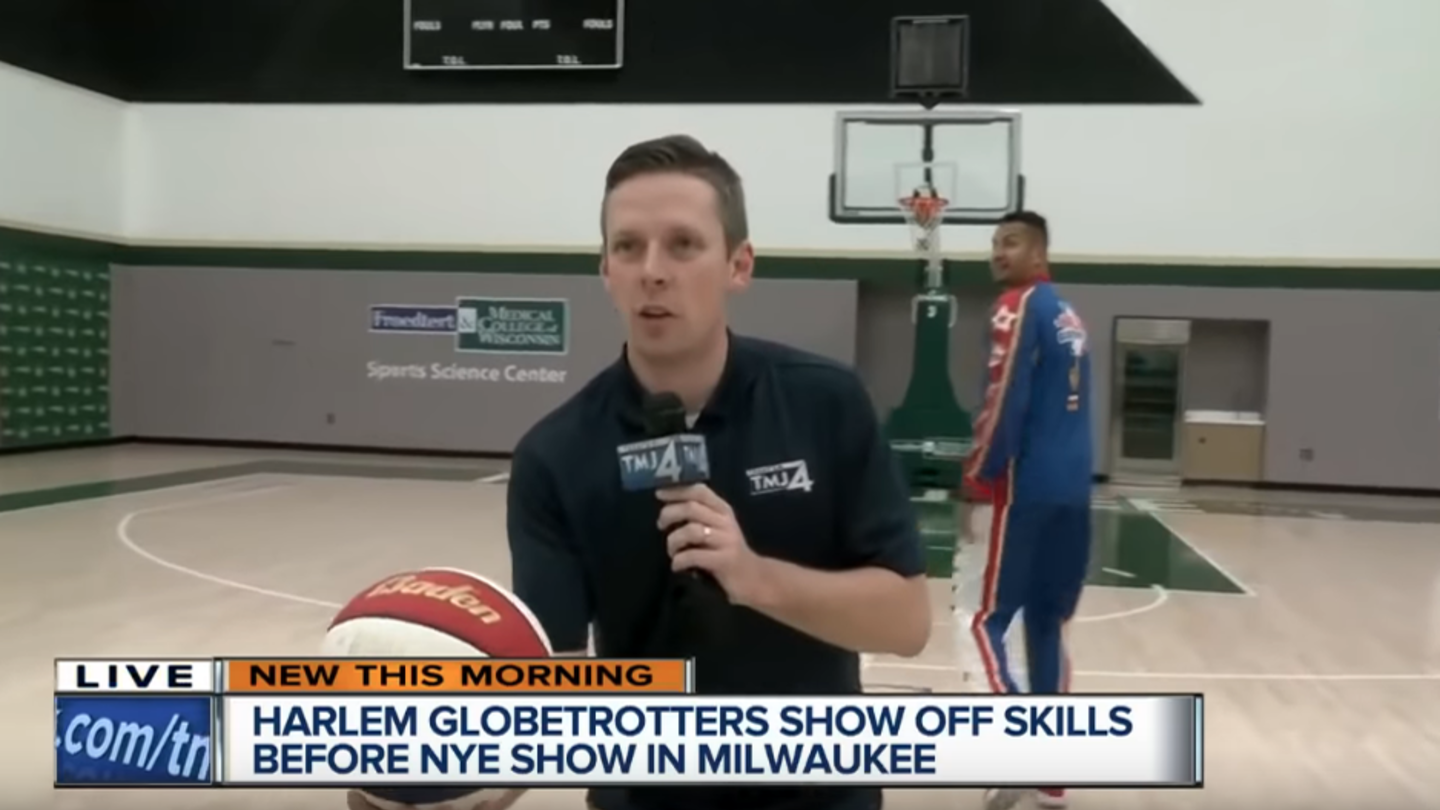 Shaun Gallagher, KLN '11, didn't fully grasp what had happened.
While interviewing Harlem Globetrotters player Orlando Melendez, a.k.a. El Gato, live on TMJ4 Milwaukee, Gallagher decided he would attempt a behind-the-back half-court shot.
He made it.
"Immediately, my executive producer called me and said, 'We need you guys to feed that video back immediately because we want to use it again and again and again,'" Gallagher said.
Within a couple of hours, the video went viral.
"I never thought that it would be something positive that went viral of me," Gallagher said.
The ball floats out of frame momentarily on the video, and Gallagher said he's been on the receiving end of some jokes about the bucket being faked.
"They're joking around," Gallagher said. "Everybody believed that it happened because, well, it did."
Once he sent the feed back to the studio, Gallagher said he was in disbelief. El Gato said Gallagher was now the Globetrotter and El Gato was the reporter.
A reporter at another news station who was waiting to do a live shot after TMJ4's piece attempted a half-court shot facing forward, but it wasn't successful.
"He didn't even make it halfway," Gallagher said. "El Gato was standing next to me and looked at me, nudged me, gave me a nod, and shook me hand again. That was cool — it was a nod of approval from a Globetrotter."
Just a few days later on TNT's "Inside the NBA," hosts Ernie Johnson, Charles Barkley, Kenny Smith and Shaquille O'Neal discussed the shot on the program.
"He's a scrub by nature and he just made a shot," Smith said.
"Don't be calling people scrubs, man," Barkley said.
"These guys who you just grow up idolizing and seeing them on TV just talking about you was just really surreal," Gallagher said. "I lost it when Kenny said, 'Oh, you know you're a scrub.' If you knew any of my friends, that's exactly what they would say or I would say about myself."
What will Gallagher do with this newfound fame? He suited up for the Globetrotters to re-attempt the shot on New Year's Eve.
"I have less than a half-percent chance of making it again," he said before the fateful appointment. "But, if that happens, it's going to be mayhem."
Unfortunately, Gallagher did not make the shot when he lined up at half court on New Year's Eve, but the whirlwind few weeks will always be enshrined in his memory.