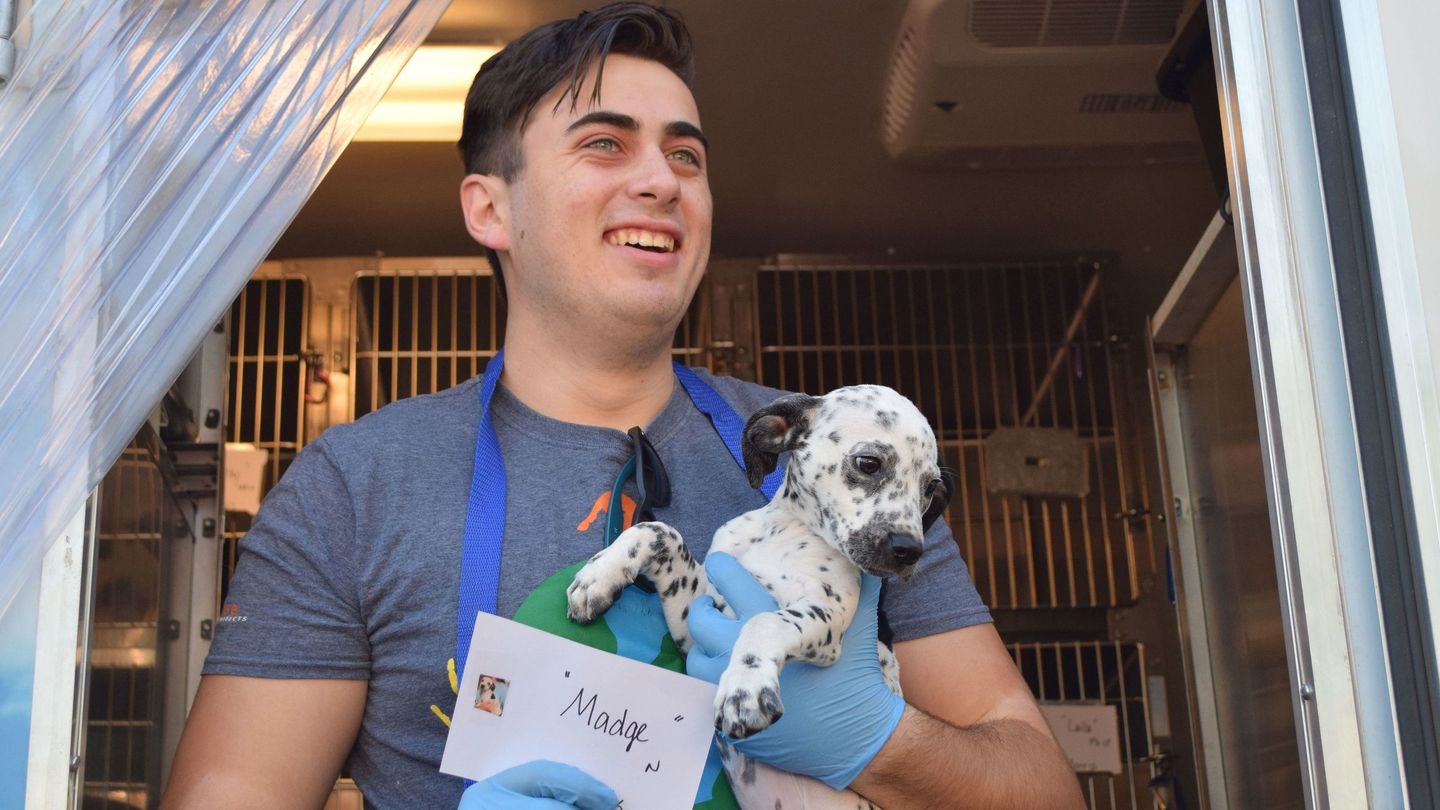 Matt Talbot, a first-year communication studies student, has always had a love for dogs. That's what encouraged him and his mom to create Animal Aid USA.
Talbot attended a St. Joseph Elementary School in Hammonton, NJ in 2009 and had to do an outreach project to help his community and improve people's lives. He and his mother, Karen Talbot, were struggling to think of what they could do until they watched a PETA video about how shelter dogs are treated in the southeastern United States.
They were inspired.
Matt and Karen wanted to personally see what the conditions were like for dogs in Georgia and try to help get them adopted. In August 2009, they organized the first "Georgia Puppy Caravan," transporting more than 100 dogs up to their home in South Jersey. 
The event at his school was called "Paws for a Cause." With help, every single dog was adopted.
At the time, it the largest ground animal transportation out of Georgia in state history. Animal Aid USA has since topped it multiple times.
"We wanted to change the lives of shelter animals of one state in particular," Matt Talbot said. "It was pretty bad down there."
Over six million animals enter shelters each year in the United States, according to the ASPCA. One-and-a-half million are killed. Southern states, like Georgia, have the highest rates in the country.
Today, Animal Aid USA, which was officially founded in 2012, has more than 40 volunteers working for the cause. On average, it rescues over 300 animals per month and has saved over 25,000 in total. The rescue animals are adopted by families after the puppy caravan arrives back in New Jersey. 
The people on the puppy caravans stayed in hotels originally. Now, with the organization growing, they created "Camp Animal Aid," which is on a open property in Georgia. It has six RVs, a dining hall, a vet clinic, and more.
Matt Talbot's passion is in filmmaking, and he has been able to hone his skills for the organization. His official position within Animal Aid USA is director of cinematography as well as director of the junior division, overseeing younger volunteers. He creates short films about the dogs, including this "Sound of Silence" video, which shows the process of going on a rescue caravan to Georgia.
He said he plans to continue working for the organization after he graduates with his degree in communication studies, and is hoping that experience can help him increase the Animal Aid USA's marketability.
While Talbot has not yet joined any clubs at Klein College of Media and Communication, he plans to do so in the fall semester.
Matt speaks strongly about his mother. She left her physical therapy job to fully commit to Animal Aid USA and its related efforts.
"Just seeing her and how strong and independent she is is really amazing," he said. "My stepdad is a great, great help, and he's been with her all the way, but she's been pursuing this completely on her own with the help of her volunteers."
He sniffled.
"It really affected me to see such a strong, independent woman in my life. I obviously consider her to be my biggest role model."